The Canon PowerShot G12 Kit is on special at Adorama – $439
I'm not sure how long this special price will last.
Could it mean, perhaps, that we can expect a G14 in the near future?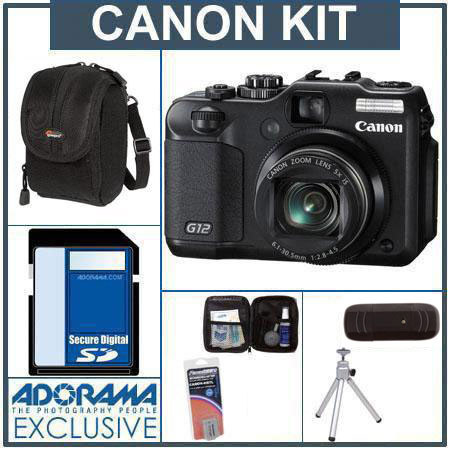 Canon PowerShot G12 Kit – $439
The kit includes the PowerShot G12, an 8GB SD card, spare battery, camera case, card reader, lens cleaning kit and a small tripod.
The SD card I would keep only as a back-up – not as my main card, but the camera case looks very nice, with that Canon PowerShot logo in front.
All in all, it looks like a sweet deal, as $439 is lower than the price of the G12 itself on Amazon or at B&H.
Update (November 24th, 2011): The price of the G12 camera has gone down to $429 on Amazon (still higher at B&H) thanks to Black Friday specials, but so has the price of the G12 kit at Adorama, now just $421!
-eyalg