Specifications 2:


Also Known As:
Ixus 230

Type:
ultra compact

Weight (inc. Battery)

[?]

:
140g

Wide Angle

[?]

:
28mm

Max. Focal Length

[?]

:
224mm

Zoom Range

[?]

:
x8

Sensor Size:
1/2.3"

Low Light Support

[?]

:
twilight

Image Stabilization

[?]

:
Optical

Raw Format Support

[?]

:
none

Manual Exposure

[?]

:
no

Video Resolution

[?]

:
1080p

Optical Zoom In Video

[?]

:
yes

Stereo Sound

[?]

:
stereo

Battery Life

[?]

:
210 shots

Flip Lcd

[?]

:
none

Touch Screen

[?]

:
none

Viewfinder

[?]

:
none

Freeze / Water / Shock - Proof

[?]

:
no

Dimensions (w-h-d)

[?]

:
95.8 x 56.8 x 22.1 mm

Macro Distance

[?]

:
1 cm

Built-in Wireless

[?]

:
none

Built-in GPS

[?]

:
none

Direct Video Button

[?]

:
yes

Panorama

[?]

:
none

Rank:

[?]




37.9



Initial Price:
$219 (change:

$0, 0%)



Last Lowest Price:
$219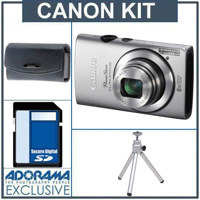 Support this site by purchasing accessories for the Canon PowerShot ELPH 310:
Canon PowerShot ELPH 310 - Full Review
The Canon PowerShot ELPH 310 is the camera that gets the job done (and does it well) and then slips back in your pocket.
Important Note:
the ELPH310 was replaced by the
Canon PowerShot ELPH 330
(
compare
).
Mistaken for the replacement of the
ELPH 300
, (that position is taken by the
ELPH 320
), the Canon PowerShot ELPH 310 introduces a new mix of compactness and zoom to the ELPH range.
With a solid wide 28mm lens and a x8 optical zoom in a 140 gram body, it's rivaled by not many others - mainly by Panasonic's new Lumix SZ7 and Sony's new WX150.
From its home camp at Canon, the ELPH 520 and 530 provide a larger x12 zoom range in a similarly slim body, but they manage to do so thanks to a smaller imaging sensor. That's the trade-off.
Strengths & Improvements
The ELPH 310 employs a high standard 1/2.3" Back Side Illuminated CMOS sensor, together with Canon's HS system - which are designed to deliver images less blurry and with less noise. The CMOS sensor also enables full HD (1080p) video with stereo sound and a fully functional optical zoom.
Build Quality & Handling
With just 22mm back to front, the ELPH 310 is a tiny thing to handle. Even so, it's slightly thicker than the ELPH 300, just enough to take away the feeling it could slip away from your hand at any moment. Another difference to the otherwise very similar body of the ELPH 300 is that some of the controls are on the right side of the camera, cleaning up the button area on the back of the camera.
There are two modes to choose from - fully-automatic and not-so-fully-automatic. The most 'manual' control you get is shifting exposure compensation for lighter or darker images and selecting a filter out of the various ones available (see examples below).
The ELPH 310 is generally very comfortable to handle, with intuitive controls and a direct video button on its back, allowing to reduce the controls, if you like, to on-off, zoom, image-shutter and video start/stop.
Performance
Focus Speed:
Focusing speed of the ELPH 310 is convenient. It's not very fast, naturally, as it is a compact camera, but it gives a feeling that... actually it doesn't give a feeling, and that's what's special about it. while focusing with a compact camera could very well be annoying, this is not the case - far from it. You point, you press and take a photo, without thinking of the focus. You don't have to. That's the photographic style this camera entails.
Operation:
The ELPH 310 is a non-presumptuous point-and-shoot. As such, it operates quickly enough for all needs. Menus aren't lightning fast, but are not expected to be, so are very convenient to work with and its start-up time of about two seconds is just fine.
Image Stabilization
: Canon's HS system does a fine job with the ELPH 310's x8 zoom range, allowing shutter speeds as low as 1/5 seconds at full zoom, and even lower if you have a steady hand. See how it performs below.
Battery Life
: In the few days of shooting with the ELPH 310, I took about 200 images and a few videos, but the battery didn't show any signs of being depleted - contradicting Canon's specification. You can trust it to see through a day of casual shooting, but when traveling, it's recommend to add a spare battery.
Image Quality
ISO Range
: Here the ELPH 310 pulls out what it hides in its sleeves. Images are clean enough in low ISO settings, but when climbing up the scale, it's quite hard to believe that such a small, average budget camera produces such low noise levels.
At ISO 800, noise is obviously visible, but is minor and non-interruptive, even when cropping the image. At ISO 1600, noise is much more evident and there is less detail, but images are still highly usable for on-screen uses and not-too-large prints. ISO 3200 shows a significant amount of noise and detail level drops - still, images viewed on a screen retain a pleasant enough look and feel.
Dynamic Range
: The ELPH 310's is no different from most compacts with such a small sensor. Like them, it is overwhelmed by high-contrast views such as a person standing in the shade with sun-struck white clouds in the background sky.
White Balance
: As could be expected from a Canon compact, it handles unnatural lighting quite well, but with a strong tendency to produce overly warm images in incandescent lighting.
Advanced Features
The ELPH 310 is mostly a point-and-shoot camera, with not much fuss. Complying with Canon standards, it has a variety of filters and color effects, which my be fun to use but are merely a convenient replacement for post-editing.
Among the image altering filters you can find the miniature effect, fish-eye, toy-camera, and others. Also available are some color replacement or enhancement filters - see examples of all of these below.
The Competition
As mentioned above, there are only a few true competitors to the ELPH 310 which offer the same well balanced mix of slim physique with a larger-than-average zoom range.
Some of these rivals are the
Panasonic Lumix DMC SZ7
(
compare
), the
Sony Cyber-shot DSC WX150
(
compare
) and the
Nikon Coolpix S6300
(
compare
)...
Who is it not for?
If you're looking for a high-end, manually controlled camera, keep looking.
If you prefer a large camera or a firm grip in your hands, then the ELPH 310 isn't it.
Who is it for?
If you want some zoom power in your pocket - this could be it.
If you're looking for a capable ultra-compact camera which hits the definition of point-and-shoot smack in the center - the PowerShot ELPH 310 is it.
Score:
Image Quality: 8
Performance: 7
Build & Handling: 7
Advanced Features: 8
Total: 7.5
Rank:
Automatically compared to similar cameras, based on specifications:
Low Light:
Wide Angle:
Zoom Range:
Weight:
Other Features:
Price:
Total Rank:
Compare the Canon PowerShot ELPH 310 with Similar Cameras:
Other Tools:
Related Posts:
Related Pages: