Specifications 2:


Also Known As:
FinePix HS33EXR

Type:
DSLR-Like

Weight (inc. Battery)

[?]

:
687g

Wide Angle

[?]

:
24mm

Max. Focal Length

[?]

:
720mm

Zoom Range

[?]

:
x30

Sensor Size:
1/2"

Low Light Support

[?]

:
twilight

Image Stabilization

[?]

:
sensor shift

Raw Format Support

[?]

:
yes

Manual Exposure

[?]

:
yes

Video Resolution

[?]

:
1080p

Optical Zoom In Video

[?]

:
yes

Stereo Sound

[?]

:
stereo

Battery Life

[?]

:
600 shots

Flip Lcd

[?]

:
flip

Touch Screen

[?]

:
none

Viewfinder

[?]

:
electronic

Freeze / Water / Shock - Proof

[?]

:
no

Dimensions (w-h-d)

[?]

:
130.6 x 96.6 x 126 mm

Macro Distance

[?]

:
1 cm

Built-in Wireless

[?]

:
none

Built-in GPS

[?]

:
none

Direct Video Button

[?]

:
yes

Panorama

[?]

:
sweep panorama

Rank:

[?]




58.6



Initial Price:
$499 (change:

↓

$205, 41%)

Last Price Change:


↑

$9 (3%) (May 1st)

Last Lowest Price:
$294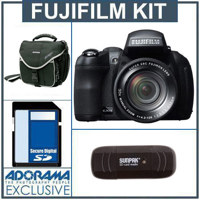 Support this site by purchasing accessories for the FujiFilm FinePix HS30EXR:
FujiFilm FinePix HS30EXR - Full Review
With the FujiFilm FinePix HS30EXR you can reach for the moon, literally, but you're not sure to land back on your feet.
Important Note:
the HS30EXR was replaced by the
FujiFilm FinePix HS50EXR
(
compare
).
Bottom line first - the FujiFilm FinePix HS30EXR (HS30 for short) makes a more compelling argument as a tool for advanced photographers, thanks to its many options and controls, but less so as a mostly-automatic point and shoot camera.
Strengths & Improvements
Compared to the HS20EXR, there is little difference that meets the eye. Other than the HS30 being 6mm's taller, they look the same, have the same optical parameters, focal lengths, apertures, button layout, etc.
Looking closer, the HS30 has a maximum image burst rate of 11 frames per second compared to the HS20's 8, the 'Raw' button on the four-way controller was cleverly changed to a customizable 'fn' button and the AA batteries of the HS20 were left out in favor of a new lithium-ion battery, making the HS30 40+ grams lighter.
Deeper in, the HS30 bears a new EXR sensor which enables the faster burst rates, but could (and should) theoretically, also improve image quality and low light support.
Build Quality & Handling
Gripping the HS30 for the first time delivers a sturdy feel in your hand. It's massive, though not excessively heavy, and its deep grip allows to hold it firmly with a very small chance of it slipping or falling by mistake.
You could think, for a moment, that you can easily work it one handedly, but when you try you realize that you actually can't.
Turn it on, peep in the viewfinder and take photos and videos that's all fine, but for taking the lens cap off and using the zoom you'll need both hands.
So, is that a bad thing? No, of course not. It's a serious camera, not an ultra-compact point-and-shooter, so why not use both hands to control it. It's ok that it requires your full attention. Take it a step further and put your eye next to the viewfinder (and see how the lcd magically turns off), posing a near-perfect DSLR photographing position. Just watch out not to press the 'ISO' button with your nose. It happens.
The manual zoom takes you closer to that DSLR feel than most cameras tagged 'DSLR-Like'. The zoom ring is plasticky, but is solid enough for its class, not wobbling or anything. A small gripe with the camera's design is that your zooming hand hits the flash, protruding over the lens. Taking the HS30 into a cathedral or taking a photo of a sleeping baby would make you wish it didn't make so many beeps and bleeps. But wait, they thought of that - a long press on the 'disp' button sets the camera's silent mode - turn it on and the camera goes silent (no AF assist light, either).
The LCD is bright and clear even in sunny conditions. There are two situations in which its hard to see the image on it - when the sun is reflected in it, or when your face or white shirt is in direct sunlight and is reflected from the lcd. Its swivel action is excellent for waist-level and over-the-head shots. Eventhough it doesn't fully articulate in other directions, this functionality is sufficient in most cases.
Performance
Focus Speed
: In general, the HS30 is quick enough, depending on how much light is available. It's not a super performer and the focus mechanism is relatively noisy (hear it in the video example below), but its focusing speed doesn't make you pause and think about it, which is exactly how a camera should behave.
Take some of the lights away and the story changes. Even more so when using its full zoom capabilities. The camera has a hard time locking on, taking anywhere between two and four seconds to do so, if it manages to lock at all.
There's a manual focus ring as well, which comes in handy in some situations. When you turn it, the camera shows a zoomed-in live view to help focusing, as well as a 'focus meter' which shows how well you're focusing. All in all, this is a very handy feature.
Operation
: As already mentioned - the HS30 is a pretty serious camera. This means it has a very long list of options and controls, some of which are accessible through the menus, but the most commonly used ones wisely placed as dedicated buttons.
On top of the ordinary on-off/shutter/video/zoom/modes buttons and dials, there are buttons for exposure compensation, for exposure and focus lock, for ISO and for white balance as well as for setting the exposure and AF modes. There's a single dial for changing the various settings, which is good in itself but could have been much better had the four-way controller on the back of the camera been designed as a ring dial as well. This way you would have been able to control both aperture and shutter in manual mode without having to switch between them.
Weirdly enough, it seems that the on/off switch doesn't always turn on the camera - about 1 out of 10 times there's no response by the camera. You then need to switch it off and back on again for the camera to come alive, losing potentially precious seconds.
There's another issue which could very well be considered significant by some. After taking a shot it takes about one second before you can take another and that's fine. However, all menus and controls are inaccessible for about 3 seconds, until the camera is done writing the image file to the memory card. When shooting RAW or RAW+JPG that time is even longer, as well as when using a slow card.
Image Stabilization
: The HS30 has a sensor-shift image stabilization mechanism, which is usually less efficient than an optical one. It works well, allowing shutter speeds as low as 1/6th of a second at full zoom. In order to get a sharp image in those conditions, you'd need to breathe slowly and hold the camera very steady.
Compared to the SX40, for example, this isn't a great performance. It managed 1/5th much more easily and with a longer zoom than that of the HS30. Another related feature which works well is 'Motion Detection', raising ISO levels and shutter speeds when there's a moving object in the frame. In broad daylight it set an ISO level of 400 and a shutter speed of 1/1000th in order to get a sharp shot.
Battery Life
: The HS30 has an official battery life of 600 shots, which is no less than a 50% increase to the HS20's 400 shots. This massive change is obtained thanks to the switch from AA batteries to a dedicated lithium-ion battery.
Shooting with the LCD on at all times and with little to almost no flash at all, the HS30 managed to squeeze out much more than 600 shots, closer to 700 to be precise. That figure is not far from DSLR territory.
Image Quality
Colors & Contrast
: If you managed not to get confused by the diverse behaviour of the HS30, you probably will now. At times, it produces beautiful, contrasty, color-rich but natural looking photos. Other times, not so much.
The main difference between those performances is the focal length used. At the short end of the zoom you get the goods, no doubt about it. Zoom in all the way, however, and image quality takes a dive, making it much harder to obtain the eye-pleasing colors and contrast. Look at the sample image of moon, for instance, and compare it to that of the
Canon PowerShot SX40
. It's not an exact comparison, since the images were taken at different times, but you can see how the SX40's moon craters in the shadows (top right) are sharper than those of the HS30 (bottom left).
ISO Range
: The HS30's 1/2" EXR CMOS sensor produces clear, though not noise-free images in low ISO settings. Looking at 100% magnification shows how noise creeps in as the ISO is increased, but there's no real issue up to ISO 400.
ISO 800 is still excellent for on screen viewing, sharing and emailing, but not so much for large prints. The party is over, however, at ISO 1600 - colors seem less alive, contrast is decreased and noise becomes apparent even on screen.
The HS30 carries on to ISO 3200, 6400 and 12800, with that last setting resembling a photo taken through a muddy windscreen.
Having the EXR set to increase image quality in low light situations and reduce noise levels helps but not to a great extent. Dynamic range is improved a little and noise is somewhat reduced, but so is the resolution with no true benefit in terms of detail levels.
Video Performance
:
The CMOS sensor at the heart of the HS30 brings with it full HD capabilities which looks smooth and colorful, as long as you're using the wider end of the lens.
In any shooting mode other than auto mode, neglecting to set the autofocus mode to 'continuous' before you press the dedicated video button, results in the video locking focus once and sticking to that throughout the clip.
Not even the 'af' or 'af lock' buttons persuade the camera to regain focus while shooting - that could have been truly useful and intuitive design. Too bad.
When you do set the focus to 'continuous', it joins the zoom in a cascade of engine noises easily audible unless you're shooting a loud scene. See (hear) the video samples below for an example.
Becoming clear as a consistent no-no, its performance at the telephoto end is taken from another movie. Perhaps even a whole different genre.
After zooming in all the way, the auto focus takes forever in terms of movie-making, even in the brightest conditions and even more so when lights are dim. Another non-appealing characteristic of video in telephoto is the apparent rolling shutter effect, common among CMOS sensors. Shake the camera slightly left and right and the image becomes dizzingly wobbly.
Advanced Features
Sweep Panorama
: The fact that the HS30 has a designated mode on the main dial for panorama shots shows how much Fuji appreciates the importance and widespread usage of this feature. The HS30's panorama is no different than other FinePix cameras, allowing 120°, 180° or 360° shots in any direction. This means that you can pan the camera horizontally and get a long and narrow panorama, or you can tilt it on its side and then pan it across the view to get a better proportioned, much more usable panorama.
The automatic creation of the panorama image works quite well, producing clean results for non pixel-peepers. Challenging this mechanism with long diagonal lines, walls, etc., shows jagged edges and noticeable seams, but this is generally not the case.
Continuous Mode
: With an 11 frames per second burst rate, there is little action that the HS30 misses. Note that this rapid fire doesn't include continuous autofocus, though.
The Competition
There are many super-zooms to choose from, but not so many really good ones. Just spitting out the usual suspects - the
Canon PowerShot SX50
(
compare
), the
Nikon Coolpix P510
(
compare
), the
Panasonic Lumix DMC FZ200
(
compare
) and the
Sony Cyber-shot DSC HX200V
(
compare
).
All of them have a wide angle lens (the HX200V has 27mm, still wide), a 1/2.3" CMOS sensor(a bit smaller than the HS30's 1/2"), Full HD video, a flip-LCD, an electronic viewfinder and a point-blank macro distance.
All of them are smaller and lighter than the HS30, with the lightest and smallest being the Nikon P510, at 555 grams compared to the HS30's 687 gram body, but in return, the HS30 has the best battery life of the lot, by far.
In regards to zoom power, which is why we're here in the first place, the only one of the mentioned models which has a shorter focal length than the HS30's 720mm is the Panasonic FZ200, with its 'modest' 600mm lens. Of course, this is a fair trade-off for the FZ200's constant f/2.8 aperture throughout its zoom range.
The Coolpix P510 has a longer lens ending at 1000mm but the true king is the PowerShot SX50, standing aloof with the longest available compact camera lens on the market - 1200mm.
In terms of cost, the HS30 is the least expensive of the lot. In fact, its price is closer to the lower positioned FZ60 than to the HX200V or P510. The SX50 is higher up and the premium priced FZ500 is far, far away. Its closest competitor probably is the Coolpix P510, which is smaller and lighter, has a larger zoom, a built-in GPS and costs less than the HS30, but has a smaller imaging sensor, no RAW format support and less than half the battery life.
Score:
Image Quality: 8
Performance: 7.5
Build & Handling: 8.5
Advanced Features: 8
EyalG's Total: 8
Rank:
Automatically compared to similar cameras, based on specifications:
Low Light:
Wide Angle:
Zoom Range:
Weight:
Other Features:
Price:
Total Rank:
Compare the FujiFilm FinePix HS30EXR with Similar Cameras:
Other Tools:
Related Posts:
Related Pages: