Specifications 2:


Type:
DSLR-Like

Weight (inc. Battery)

[?]

:
606g

Wide Angle

[?]

:
20mm

Max. Focal Length

[?]

:
1200mm

Zoom Range

[?]

:
x60

Sensor Size:
1/2.3"

Low Light Support

[?]

:
twilight

Image Stabilization

[?]

:
Optical

Raw Format Support

[?]

:
yes

Manual Exposure

[?]

:
yes

Video Resolution

[?]

:
1080p

Optical Zoom In Video

[?]

:
yes

Stereo Sound

[?]

:
stereo

Battery Life

[?]

:
400 shots

Flip Lcd

[?]

:
none

Touch Screen

[?]

:
none

Viewfinder

[?]

:
electronic

Freeze / Water / Shock - Proof

[?]

:
no

Dimensions (w-h-d)

[?]

:
130.2 x 97 x 118.2 mm

Macro Distance

[?]

:
1 cm

Built-in Wireless

[?]

:
none

Built-in GPS

[?]

:
none

Direct Video Button

[?]

:
yes

Panorama

[?]

:
sweep panorama

Rank:

[?]




63.1



Initial Price:
$399 (change:

↓

$150, 38%)

Last Price Change:


↓

$48 (16%) (Oct 13th)

Last Lowest Price:
$249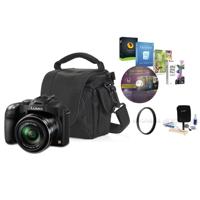 Support this site by purchasing accessories for the Panasonic Lumix DMC FZ70:
Panasonic Lumix DMC FZ70 - Full Review
The ability to say - 'mine is the largest there is the whole world!' - for just a few hundred bucks? Now that's something!
Strengths & Improvements
Making headlines is an effective way to ensure attention to a certain product. Ever since the megapixels war was significantly diminished (still going on, of course, but asymptotically to a much lesser extent), the zoom wars took its place.
Not more than two years ago, the Nikon P510 set the new zoom bar with its unprecedented x42 zoom lens. Then came the bunch of x50 - the
Sony Cyber-shot DSC HX300
(
compare
), the
Canon PowerShot SX50
(
compare
) and the
FujiFilm FinePix SL1000
(
compare
), while others stayed behind, retaining the lower x42 zoom, like the
FujiFilm FinePix HS50EXR
(
compare
) and the
Nikon Coolpix P520
(
compare
).
Then came the FZ70, sister to the
Panasonic Lumix DMC FZ200
(
compare
), which had set standards in its own right, with its x24 zoom combined with a constant f/2.8 max aperture. With the FZ70, Panasonic went all-in, bending the laws of physics once again, and introduced the world's first x60 zoom.
It doesn't have a larger max focal length, mind you. It has the same 1200mm ('the same'... ? This is the standard? That's amazing!) as all the members of the x50 club. What Panasonic did to achieve this goal was to have the lens start at 20mm. That's the second record this camera sets - the widest non-detachable lens ever. In the whole wide world.
A short history lesson
: The first FZ in Panasonic's line-up - the FZ1, was introduced back in 2002, with a 2 megapixel sensor and a x12 zoom starting at 36mm. It was followed by a number of FZx's up until the FZ8 in 2007. In parallel, there was a series of larger, more impressive cameras which started off with the FZ10. Those, too had a x12 zoom starting at 35mm.
In fact, the first camera to break these zoom range and wide angle settings was the unbelievably popular FZ35 in 2009, which brought with it a much wider 27mm lens and a longer x18 zoom.
From there on there were two parallel series once again, starting with the FZ40 and the FZ100. Up until the FZ60 and the FZ200 things were steady - a x24 zoom starting at 25mm with both series.
Then, as already mentioned, came the FZ70, breaking all conventions and standards. So what will the future be like? Will we get an FZ250 with a zoom as large as the FZ70's and a constant large aperture? One can only hope that Panasonic hold firm to their senses and stop the madness. This kind of zoom is beyond practicality, which means that the quality trade-off is moot.
Here's 2013's x60 zoom FZ70, next to 2005's x12 zoom FZ5:
Build Quality & Handling
The camera looks like a beast. Not in the sense that it's large and heavy, but more like something you wouldn't want to mess with. Its wide lens and hump of a wind-cut-microphone/flash unit bestow an I-know-what-I'm-doing appearance.
The story takes a sharp turn the moment you pick it up. Like a dog barking frantically at you from a few feet away but then rubbing against your fingers forcing you to pet it after you're through the door, such is the FZ70 - once in your hands, the bulliness seems as a mere facade.
Its body is low-weight and feels plasticy - this may imply a smaller chance of carpal tunnel syndrome, but nonetheless, feels cheap to the extent making you feel cheated.
The microphone hump on top of the flash is enormous. When you pop up the flash, it looks and sounds as if the spring mechanism can barely hold the thrust.
There are many dedicated buttons - focus mode, ISO, White Balance, Drive, Timer, and two customizable Fn button. This means that for the most part, you rarely need to use the menus.
On top of that, controlling exposure is cleverly done with just one dial. Click on it go through the relevant controls in p, a, s or m modes, be it aperture, shutter speed or exposure compensation. Nonetheless, a second wheel on the back could have taken its controls to a higher level.
The electronic viewfinder is very small and the fact that it shows everything that the LCD shows makes it annoying to use, even if you have 20/20 vision. Not only that, but there's also no smart detector that switches between the LCD and the EVF when you put your eye next to it - you need to press a button to do that.
Performance
Focus & Zoom Speed
: The unfathomably wide and long lens operated better than I expected. Zooming in or out takes about 3 seconds from end to end. During video the zoom mechanism operates more delicately resulting in 6 or 7 seconds.
Focus indoors at full zoom is quite fast - takes about one second in average. When using the full strength of the zoom, it's quite difficult to focus on small objects, especially if they're moving, so catching birds in mid air is not an option.
At times you lose sight of what you're aiming at and need to zoom out to lock your bearings. A quick zoom out and in function, like in canon super zooms have, could have useful.
Operation
: The menus of the FZ70 are full of options and settings filtered down from more advanced cameras. The general feel is that there's much possible, perhaps more than what this camera's usual target audience is used to.
True, there's no built in neutral density filter, no electronic level and no live histogram, but there are nice surprises, such as the ability to set the camera's minimal shutter speed - anywhere between 1 second and 1/250 of a second.
The menus structure is elaborate yet efficient and the quick menu is a treat as always, cuts down the need to dwell in the menus themselves and makes it all so much more accessible.
Image Stabilization
: The lowest shutter speed I was able to reach while still getting a sharp image at full zoom is 1/8. Technically, that's an amazing 7-stop worth of image stabilization. In real life though, you need to hold really still and take extra shallow breaths in order to pull this off.
Battery Life
: 400 shots per charge is nothing to write home about, even though it's better than many of its opponents - the (SX50: 315, HX300: 310, P520: 200). Panasonic's own FZ200 delivers a much nicer 540 shots per charge whereas the .
FujiFilm FinePix HS50EXR
(
compare
) has a decent 600.
It will probably get you through a day's worth of shooting, even if you're trigger happy, but for a long trip or vacation, a spare battery is highly recommended.
Image Quality
Colors & Contrast
: Such an enormous zoom needs to be quick enough to operate and more importantly - deliver high enough image quality despite its obvious optical trade offs. The FZ70 stretches optic capabilities both to the wide end and to the tele end, resulting in a discernible compromise in image quality.
You will need to work hard in order to achieve results full of color and contrast. Fiddle with the controls, take close care for the right exposure. You'll definitely get nice shots in auto mode, but for that extra quality you'll need to walk and extra mile.
ISO Range
: In terms of ISO performance, the FZ70 is not much different than most cameras with a 1/2.3" CMOS sensor. Noise is visible even at the lower level but can be ignored in day-to-day viewing and printing needs.
ISO 400 has even higher noise levels and lower detail when viewed at %100 - though full on-screen viewing is still near perfect. ISO 800 is the turning point, where things start to fall apart. Still ok on-screen, but enlargements and prints should be handled with care.
ISO 3200 is beyond acceptable quality - not only noise is high and detail is low - colors are off and contrast is gone.
White Balance
: As always, things are fine as long as the light is good. In incandescent light, the Auto white balance yields exaggerated orange skin tones. The incandescent presetting doesn't help - in fact, its results are even warmer. For accurate colors in artificial lighting conditions, I recommend using the manual setting.
Video Quality
: The zoom of the FZ70 works smoothly and relatively quickly in movie mode - creating amazingly various framing capabilities. Focusing hunts on low-contrast objects, especially in full zoom, but in general works just fine.
Manual video mode allows control of many recording aspects, including full PASM, but to my surprise, there's no selection of frame rates. You can choose between MP4 and AVCHD, as well as the video resolution, but not any other frame rates than the default setting - AVCHD has 60p at full HD and 60i at 1280x720, and MP4 has 30p with three available resolutions.
I found that it's possible to change the exposure compensation while shooting a video (in manual movie mode, that is) but only by turning the back dial. Its clicks are very loud and are easily heard in the movie. Panasonic should have assigned the back right/left buttons for this - they are much quieter to press.
Hand-holding the camera during video results in a strong rolling shutter effect. The image is wobbly as if it's made of water. Also, there's a distinct noise coming from the image stabilization mechanism, as well as from the zoom, when it's changed.
Advanced Features
Sweep Panorama
: I always like it when a camera has a dedicated mode for panorama on its main dial. It's an important feature, both fun and practical and deserves such immediate access.
Although it's not made obvious - panoramas can be shot in all directions. After switching to panorama mode, press 'up' and select your direction of choice (up or down provide less narrow, much more usable results). Once you choose, you get a nice surprise - the special effects menu for applying to the panorama.
Continuous Mode
: This was the only down right disappointment I had in the FZ70. I was surprised to learn than its continuous mode at 5 fps takes just three quick consecutive shots and then slows down to a single shot per second, even when using a class 10 (45 mbs) memory card. Its 9 fps mode works ok but that's just because it delivers 3 megapixel images.
Macro
: The minimum focus distance at full zoom is a huge meter and a half, but it renders a wonderfully shallow depth of field - much nicer than the macro at wide angle, in spite of its much closer working distance.
The bottom line
It's a whole lot of something, this camera. It has the largest available zoom range in the world, as well as a decent set of features and settings that will satisfy most casual and even some advanced shooters. There's no touch control or wi-fi connectivity, no built-in GPS and no articulating LCD, so there's not much no play with - most controls are related to stills and video shooting
It's not for pure image quality that you will buy this camera, but for all its other characteristics. In terms of image quality, it does a fair job, but far from excellent. For that, you'd need to waive a great deal of zoom power.
Score:
Image Quality: 7.5
Performance: 8
Build & Handling: 8.5
Advanced Features: 8
EyalG's Total: 8
Rank:
Automatically compared to similar cameras, based on specifications:
Low Light:
Wide Angle:
Zoom Range:
Weight:
Other Features:
Price:
Total Rank:
Compare the Panasonic Lumix DMC FZ70 with Similar Cameras:
Other Tools:
Related Posts:
Related Pages: