Specifications 2:


Type:
DSLR-Like

Weight (inc. Battery)

[?]

:
813g

Wide Angle

[?]

:
24mm

Max. Focal Length

[?]

:
200mm

Zoom Range

[?]

:
x8.3

Sensor Size:
1"

Low Light Support

[?]

:
well lit rooms

Image Stabilization

[?]

:
Optical

Raw Format Support

[?]

:
yes

Manual Exposure

[?]

:
yes

Video Resolution

[?]

:
1080p

Optical Zoom In Video

[?]

:
yes

Stereo Sound

[?]

:
stereo

Battery Life

[?]

:
420 shots

Flip Lcd

[?]

:
flip

Touch Screen

[?]

:
none

Viewfinder

[?]

:
electronic

Freeze / Water / Shock - Proof

[?]

:
no

Dimensions (w-h-d)

[?]

:
129 x 88.1 x 102.2 mm

Macro Distance

[?]

:
3 cm

Built-in Wireless

[?]

:
Yes, with NFC

Built-in GPS

[?]

:
none

Direct Video Button

[?]

:
yes

Panorama

[?]

:
sweep panorama

Rank:

[?]




73.4



Initial Price:
$1298 (change:

↓

$500, 39%)

Last Price Change:


↓

$20 (2%) (May 3rd)

Current Lowest Price:
$798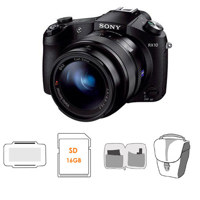 Support this site by purchasing accessories for the Sony Cyber-shot DSC RX10:
Sony Cyber-shot DSC RX10 - Full Review
Important Note:
the RX10 was replaced by the
Sony Cyber-shot DSC RX10 II
(
compare
).
Strengths & Improvements
Sony have become nothing less than daring and innovative in the past few years. With the RX1 but mostly with the unmatched, unrivaled RX100. The RX10 is no different - there's nothing else like it. Anywhere. In the World.
It has a fearsome combination of a 1" CMOS sensor and a 24-200mm f/2.8 lens. In my book, that's THE dream come true. Of course, the list of features goes on and on, but this is where the bacon lies - all the rest is extra (which I review below thoroughly).
Build Quality & Handling
First off, the RX10 is built like most DSLR-Like cameras, in terms of body size and shape. Its lens is wider than most, giving a sense that it should be able to detach from the body, which of course, it isn't.
While all other DSLR-Like cameras are in fact quite dissimilar to DSLR's, as their sensor is a 1/2.3" like that in any other compact camera, the RX10 justifies its group nic with its 1" sensor, equivalent to Nikon's x2.7 crop in their '1' mirrorless camera line.
Another DSLR-esque feature of the RX10 is its control ring around the lens. It controls the zoom by default, doubling over the zoom rocker around the shutter button, but could naturally be set to control a variety of features.
In general, its body felt well in my hand, with plenty of room for my fingers around the deep grip. It's enough to provide a steady grasp on the camera, but having said that, I wish it was a bit thicker - that would have made it even more comfortable to hold.
The a-la-rangefinder threaded shutter button is very precise - its motion is long and deep, like the clutch in a stick shift Volkswagen. The other most significant button, well placed on top of the camera is the exposure compensation dial, easily accessible with your right hand thumb.
The articulating LCD is easy to snap out thanks to a gap on its top left corner. It articulates about 45 degrees downwards and 90 degrees upwards. As could be expected at this level, switching to and from the viewfinder is automatic once you put your eye next to it.
The memory card slot is separate from the battery compartment and that's great, but for some odd reason, Sony had made it very hard to take out the card from the card slot due to the door which doesn't leave room for the fingers - it was a struggle each and every time.
Performance
Focus & Zoom Speed
: Zoom is damp as it can be, I actually had to use an extensive amount of force in order to turn the zoom ring quickly. However, it seems that it wasn't meant to turn so fast, since it's actually a zoom-by-wire mechanism, which is in fact very slow - turn the ring as fast as you want, the lens will zoom in its own pace.
Focus, on the other hand, is plenty quick in most situations, enough to be regarded as a non-issue.
Operation
: In the beginning, I was surprised to see that there were no direct buttons for ISO and WB, only to discover that the back wheel can be fully customizable to control these features as a four way button, so don't forget to set what each direction of the back wheel controls, as well as the elements in the Quick Menu of the Fn button.
The only negative in this matter is the fact that the middle back button does nothing in many cases is a waste of button potential.
After taking a shot, zooming in zooms the photo preview. I couldn't get used to half pressing the shutter button before zooming, so I lost precious time between shots.
The lens ring has a nice touch to it - an option to choose whether the moving it is accompanied with clicks or not, suitable for both intuitive stills and videos - ingenious.
The electronic level in the viewfinder is another brilliant touch. I had a minor issue with the viewfinder, though - it seemed like there was a delay in the focus lock green light confirmation in the viewfinder, compared to the back LCD screen. Not that any of them are slow - it's near instantaneous when using the LCD, but it takes it a fraction of a second longer to appear in the EVF.
Battery Life
: First and foremost - the camera shows the battery status by percent. While currently being regarded as one of the most critically absent features of the latest Android version on some cell phones, having it on a camera is extremely useful and more importantly - reassuring.
Regarding battery life - after the first charge, the battery still had 18% after having taken more than 500 photos. Perhaps I did something special, but the second charge gave me even more than that, so it probably depends highly on usage style. You know what they say - YMMV.
In terms of charging the cameras - that's done by a regular micro USB connector that can be used in your car or from any computer and you even can share your charger with your Android or other smart phone. I found that to be very convenient in day-to-day use. Having said that, it renders a spare battery moot.
Image Quality
Colors & Contrast
: The RX10 is one of the only single lens cameras to output DSLR-like colors. It's doesn't hold up against the best of them, but certainly holds its grounds when compared to entry-level and even some mid-range ones.
The large sensor delivers to goods and the small DOF at full zoom naturally adds to the 'wow' factor, summing up to a total of a powerful tool in your hands.
Note that 'fine' quality is the default - so choose 'extra fine' if you prefer less compression for critical work. Just remember that the files could be very large (up to around 10mb).
Dynamic Range
: Here are some examples of the in-camera HDR mode, at its different levels, if that's the kind of thing you like to use:
ISO Range
: I found exactly what I expected to find in the high ISO shots of the RX10 - around one stop shy of DSLR capabilities. Looking at 100% crops, I noticed that fine detail and colors are retained up to ISO 1600 (with the latter showing some noise).
The meltdown starts at ISO 3200, where noise takes over and details flee and ISO 12800 is downright terrible. Comparing ISO 3200 JPEG and RAW output shows that you can squeeze some more detail at the expense of more noise.
Depth of Field
: The constant f/2.8 aperture of the RX10 implies a DOF equivalent to around f/7.5 on a full frame camera. At 24mm, that's awful, regardless of how close you get to you object.
That same f/7.5 equivalent at 200mm, on the other hand, is a different story. Take a look at the shots below to get a glimpse of the DOF you get at different focal lengths and apertures:
Video Quality
:
Video is a strong point of the RX10 - it has external mic and phone jacks, HDMI output, zebra patterns, focus peaking, dual audio channel indicators, all combined with its lens/aperture/sensor combo. What else could you possibly want?
Switch to manual mode, set the lens ring to manual focusing, use the aperture ring and the two rings on the back for shutter and ISO and you've got everything you need. This is most definitely a serious video shooter.
But. And there's a but here, not a very big but, but still a but -
Even though movement in videos is very smooth, you need to learn how to use the zoom in order for it not to move in steps. Also - there's no option to set zebras for movies only, so if you set it - you get it in stills too.
I couldn't find slow-mode, so I guess it's available in post only, using the 60p it renders for that.
Between its two available formats - AVCHD and MP4, you get MP4 with just 1440X1080 and VGA, and AVCHD shoots full HD only at rates of 17, 21 and 24 Mbps. Respectable, but nothing like the GH4 or even th GH3.
Advanced Features
Sweep Panorama
: This was a surprise, and not a particularly good one. Sony were first to incorporate sweep panorama in their compact Cyber-shot cameras. They have been doing a great job ever since, so I was expecting to find the same here. I didn't.
First off, when shooting panoramas, there are no indicator lines to keeps shots in a straight line. But the fact of the matter is that a large percentage of the RX10's panoramas are plainly no good. Unless you move the camera really slowly, you get visible seams of cut objects or differences in exposures throughout the frame. In some extreme cases of moving objects or contrasty scenes, which I've seen older Cyber-shots deal with triumphantly, even sweeping slowly doesn't help.
Don't get me wrong, this applies to some situations, far from being the most part of them, so also remember that the panorama has two sizes you can choose from - standard and wide, the latter being longer and therefore thinner by proportions.
Continuous Mode
: Continuous mode with auto focusing didn't feel very fast, nor was it accurate. Adding to that the fact the the large files take a long time to be written to the card, even if it's a fast card, all make this feature leave quite a lot to be desired.
Macro
: The RX10 doesn't rival dedicated DSLR macro lenses, nor is it capable of taking point blank shots like some compact cameras do. It does a fair job, especially if you use a longer focal length in macro mode, which means a longer working distance and much smaller depth of field.
Neutral Density Filter
: The brilliant automatic neutral density filter takes your mind off too high speeds while it takes care of DOF by itself. So much better than having to set it manually and accidentally hitting aperture of shutter speed limits.
Artistic Filters
:
The Bottom Line
Getting beautiful pictures is very easy on any level of automatic or manual control. The combination of the large sensor with a constant f/2.8 aperture and a 24-200mm zoom is practically unrivalled. The Canon G1X Mark II may come close, and it even has potentially smaller DOF than the RX10, but is not quite as full featured.
The main issue with the RX10 is its price. For around the same amount of money you can buy a top-tier mirrorless kit or a decent DSLR. A Lumix GX7 or GH3, a Canon 70D or a Nikon D7100 all fit in the price of the RX10 with extra cash to spare on a lens. Naturally, not a comparable lens with this mighty 24-200mm f/2.8, and that's where the magic of the RX10 lies - it's wholesome. It checks every box. It's the single camera you'll ever need.
Rank:
Automatically compared to similar cameras, based on specifications:
Low Light:
Wide Angle:
Zoom Range:
Weight:
Other Features:
Price:
Total Rank:
Compare the Sony Cyber-shot DSC RX10 with Similar Cameras:
Other Tools:
Related Posts:
Related Pages: