Specifications 2:


Type:
compact

Weight (inc. Battery)

[?]

:
290g

Wide Angle

[?]

:
24mm

Max. Focal Length

[?]

:
70mm

Zoom Range

[?]

:
x2.9

Sensor Size:
1"

Low Light Support

[?]

:
nights, indoors

Image Stabilization

[?]

:
Optical

Raw Format Support

[?]

:
yes

Manual Exposure

[?]

:
yes

Video Resolution

[?]

:
1080p

Optical Zoom In Video

[?]

:
yes

Stereo Sound

[?]

:
stereo

Battery Life

[?]

:
shots

Flip Lcd

[?]

:
flip & selfie

Touch Screen

[?]

:
none

Viewfinder

[?]

:
electronic

Freeze / Water / Shock - Proof

[?]

:
no

Dimensions (w-h-d)

[?]

:
101.6 x 58.1 x 41 mm

Macro Distance

[?]

:
5 cm

Built-in Wireless

[?]

:
Yes, with NFC

Built-in GPS

[?]

:
none

Direct Video Button

[?]

:
yes

Panorama

[?]

:
sweep panorama

Rank:

[?]




82.8



Initial Price:
$798 (change:

↓

$50, 6%)

Last Price Change:


↑

$50 (7%) (Apr 16th)

Current Lowest Price:
$748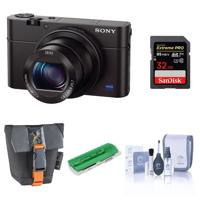 Support this site by purchasing accessories for the Sony Cyber-shot DSC RX100 III:
Sony Cyber-shot DSC RX100 III - Full Review
Important Note:
the RX100III was replaced by the
Sony Cyber-shot DSC RX100 IV
(
compare
).
Preface
When the Canon S90 was introduced back in 2009, I bought it. I couldn't help it, I was in awe by its fascinating combination of a large sensor and aperture in a compact body. True, the LX3 also had f/2.0 at its wide end, but wasn't as small as the S90 and it had an insulting x2.5 zoom range. When the Fuji X10 came about, I bought it. I traded compactness for ergonomics and was happy I did. It also had f/2.8 at its long end and I loved that. I'm a sucker for large apertures. That's why I traded the X10 for the LX7 - I had to have that wonderful f/1.4-2.3 24-90mm lens. Not a huge zoom, but the apertures, Oh the apertures!
It could only be assumed that I should have bought the RX100 when it was was first born, but I didn't. I had no real reason to so, other than the unprecedented large sensor in the compact body, perhaps. But that just wasn't enough to convince me, and besides, I walked a different path, taking in an even larger sensor combined with better ergonomics than what the RX100 had to offer. I went mirrorless and replaced my LX7 with the GX7.
No longer could I place my camera in a pouch strapped on my belt. That was a heavy price to pay and that's why I'm selling my GX7, replacing it with a new camera once more.
Will it be the RX100III? Either read through my review or jump straight to the bottom line to cut to the chase.
Build Quality & Handling
Taking the RX100 in your hands, you can feel the densely crafted technology in the compact body. It wasn't long ago that the mere thought of an f/1.8-2.8 in a pocketable camera was considered science fiction, not to mention having it combined with a 1" sensor.
The Mark III takes this innovative line a step further by making the dream a reality. There are trade-offs to this magic, of course. A small body has few buttons and dials compared to a large camera so controlling it is cumbersome and non-intuitive.
Having said that, there's another inherent bonus to packing all that goodness into a small body besides being practical - it doesn't scare people away. Those who are usually intimidated by the presence of a lens nearby, smile instead, and if they're aware of the cool smile-o-meter this camera has, they smile even harder!
Call me a nit-picker
One of the first things I noticed when I started shooting with the RX100 III is that its shutter button 'drive' is very short - it takes getting used to, especially after working with the excellent long and accurate motion of the Fuji X30's shutter button.
The lens ring is a great idea that benefits most cameras, but not so much in this case. This camera is all about single handed shooting. Having to bring up your left hand as well breaks the pose.
It isn't possible to display both histogram and level on the LCD display. The different display options are selectable from a list, but not customizable whatsoever.
There's no utilization of long presses on buttons to configure their functionality, which could have reduced time spent in the menus. Also - going in and out of your pocket the mode dial might turn.
But the most discerning issue is that the max shutter speed is just 1/2000, with no electronic shutter to support it. That's quite limiting, fortunately there's a built in ND filter that helps some.
Performance
The RX100 is a quick performer, as long as there's good light and you don't use the advanced modes. In low light, shot to shot times and the screen refresh rate are pretty much on the low side.
The i+ mode uses advanced techniques requiring long processing times, such as combining a few shots to reduce noise or to stretch dynamic range. It usually succeeds in doing so, but you have to let it run its course.
Speed priority continuous took more than a highly impressive 50 shots before slowing down, using a class 10 memory card. Continuous mode with AF did quite a good focusing. Not at a sport-shooter level, but definitely adequate for kids running around.
Image Quality
Let's get clear what needs to be clear. The RX100 doesn't match DSLR image quality. It's not expected to, so there's no room for disappointment. It's just that if you were to think that you're going to leave your 8 lbs. bag at home and take this cutie in your pocket instead, you'd be wrong.
Now that I cleared this crucial point, I can go ahead and say that the RX100 III delivers the best image quality you can ever get out of a camera that can fit in your pocket. It's only bettered by mirrorless cameras, most of which are significantly larger. Of course, this combo of petiteness and quality comes at a price, but I'll come to that later.
ISO Range
:
At low sensitivity, the RX100 III is able to create sharp images full of fine detail, all the way from ISO 80 to ISO 800. At ISO 1600, I noticed the first clear signs of degradation in detail level, which took another step downwards at ISO 3200, but not a very large one, so images are still quite usable, even for sizeable prints.
ISO 6400 is the melting point - where the sensor loses it grip on both detail and color, so images are faded and without any 'pop' whatsoever. You can choose your flavour of Noise Reduction, displayed below, but all you'd get at this ISO level is more or less noise, not more detail. ISO 12800 is downright terrible, though can be used with some corrections of saturation for on screen viewing.
Depth of Field
:
One of the most significant improvements of the Mark III over the Mark II is its max apertures - the f/1.8 at the wide angle setting is the same, but the f/4.9 at the long end is now a much better f/2.8, allowing better low light performance and shallower depth of field.
If you compare the depth of field to a Full Format sensor camera, you'd end up with an equivalence of a 24-90mm f/4.8-7.5 lens, which is nothing to write home about. However, when you move in close to macro distance, things look a bit different, and that max aperture at the wide end is quite nice:
Here's a sample of the RX100 Mark III's video:
Advanced Features
Sweep Panorama
: Sony have always been good at creating automatic panoramas and the RX100 III is no exception. The output is mostly usable, with little variation in exposure across the final image.
There's no control over the angle of the panorama, only its direction, so you're limited to when the camera decides to stop, as well as a maximum shutter speed of 1/500 sec., that's a problem when you shoot a sunset panorama.
Artistic Filters
: The filters and effects are mostly familiar and ordinary (does anyone still use the miniature effect? Really? More than once?), but a few are downright awesome.
The High Contrast Monochrome produces wonderful black and white images and the illustration effect is highly amusing. It's a bummer that the effects can't be combined with some other features, like panorama.
Here's a short comparison of the RX100, the Fuji X30, the Panasonic GX7 and the Sony A6000:
The Bottom Line
Two generations after the initial RX100 changed the way the world looks at compact cameras, the RX100 III takes its distinguished dynasty a step further - fine-tuning its trade-offs of size and quality, introducing some unheard of features and creating an unmatched package of advantages. To name to most significant ones - its small body packs a 24-70mm f/1.8-2.8 lens, a 1" sensor, an electronic viewfinder and an articulating LCD screen.
The only camera that comes close is the Canon G7X, which has many similar features, a longer zoom and a touch screen, but no viewfinder. I haven't tested it myself yet, but from everything I heard and read, it doesn't match the quality of the RX100 III. Don't take my word on that - wait till I actually review it.
So what else is out there? There's the regular bunch of high-end compacts, with the has-been high-end 1/1.7\" and 2/3" sensor sizes, such as the Canon S120 and G16, the Nikon P340 and P7800, the Fuji X30 and Panasonic… Oh, wait, Panasonic left the 1/1.7" boat and sailed forward to discover new boundaries - they created the Panasonic LX100 with a micro four thirds sensor and a f/1.7-2.8 24-75mm lens.
The funny thing is that in spite of the mind-boggling technology of the RX100, I prefer both the X30 and LX100 over it - one with a smaller sensor, the other with a larger one, but both with superior ergonomics. The fact of the matter is - they're both fun to shoot with. They encourage creativity. The RX100 isn't and doesn't. It's just very, very practical.
The answer to the cliffhanger in the preface is that I ordered an LX100. It fits my every need for portability, sensor and aperture sizes and photographic engagement. I understand the charm of the RX100, I really do, but I don't like shooting with it. You can take it anywhere in your pocket and shoot great photos, but it's not fun. Sony managed to create a truly magnificent piece of technology, but they couldn't include the charm and essence which make photography what it is. As a small point-and-shoot, it's the best in the world, but as a camera, far from it. The to-do list for Sony for the RX100 mark IV must have a small grip in the front. Why not? It won't make the camera any larger. It should also have a dedicated button to configure the lens ring function, and speaking of the lens, it must match if not surpass what the Canon G7X is offering or what the LX7 offered - so either a 24-100mm f/1.8-f/2.8 or a 24-90mm f/1.4-2.3 lens. The latter would be a true winner in they manage to pull it off.
Rank:
Automatically compared to similar cameras, based on specifications:
Low Light:
Wide Angle:
Zoom Range:
Weight:
Other Features:
Price:
Total Rank:
Compare the Sony Cyber-shot DSC RX100 III with Similar Cameras:
Other Tools:
Related Posts:
Related Pages: