Specifications 2:


Type:
ultra compact

Weight (inc. Battery)

[?]

:
161g

Wide Angle

[?]

:
24mm

Max. Focal Length

[?]

:
168mm

Zoom Range

[?]

:
x7

Sensor Size:
1/2.3"

Low Light Support

[?]

:
twilight

Image Stabilization

[?]

:
Optical

Raw Format Support

[?]

:
none

Manual Exposure

[?]

:
yes

Video Resolution

[?]

:
1080p

Optical Zoom In Video

[?]

:
yes

Stereo Sound

[?]

:
stereo

Battery Life

[?]

:
360 shots

Flip Lcd

[?]

:
none

Touch Screen

[?]

:
none

Viewfinder

[?]

:
none

Freeze / Water / Shock - Proof

[?]

:
no

Dimensions (w-h-d)

[?]

:
95 x 53.5 x 23.3 mm

Macro Distance

[?]

:
5 cm

Built-in Wireless

[?]

:
none

Built-in GPS

[?]

:
none

Direct Video Button

[?]

:
yes

Panorama

[?]

:
sweep panorama

Rank:

[?]




48.7



Initial Price:
$229 (change:

$0, 0%)



Last Lowest Price:
$229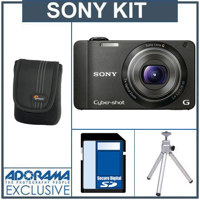 Support this site by purchasing accessories for the Sony Cyber-shot DSC WX10:
Sony Cyber-shot DSC WX10 - Full Review
You can't miss with the WX10. It's slim, has an extra wide lens, a wide aperture for low light shots and a x7 zoom to top it off.
Sony Cyber-shot DSC WX10 (photos: Sony)
But it doesn't stop there. The Cyber-shot WX10 is packed with the finest gadgetry, with a single purpose - produce the cleanest and sharpest image possible.
Strengths:
Starting with the basics - it has a large maximum aperture setting of f/2.4, allowing more light through the lens than most compact cameras.
On top of that, its lens starts at an extra wide 24mm and goes through an x7 zoom to 168mm. Considering this camera's ultra compact weight of 161 grams, this is impressive at the very least.
It has a back-illuminated CMOS sensor, designed to further improve low light capabilities. It also has an efficient Handheld twilight mode, in which the camera automatically a few shots and combines them together to a single, cleaner image.
Its 'Easy' mode is also highly effective - disabling most buttons and menu options in order to minimize control and prevent changing the settings accidentally.
Another strong point is the WX10's sweep panorama, which - in short - works. That's no gimmick, but rather a highly effective tool - hold the shutter button and swipe the camera across the scene for a single instant panoramic photo. For more usable proportions - you can swipe the camera while holding it vertically, as well.
Above all that, the WX10 is highly responsive, both in menu operation and in focusing and shooting. Bottom line - it's a pleasure to use.
Weaknesses:
The WX10 goes through great lengths in order to improve image quality, especially in imperfect lighting. The tradeoff in those cases is a very long processing time after each shot, making shot-to-shot duration an almost unbearable 5 seconds. To be fair, this happens only in extreme situations and can be easily avoided by changing the setting so that no post processing is done.
Moreover, in-camera post processing can only do so much to improve image quality. Even with its 'handheld twilight' mode, the WX10 is no
S95
(
compare
).
As with many other cameras, skin tones tend to be over warm in home lighting, especially when using the flash and even more so when setting the white balance to 'incandescent'. Of course, setting the white balance manually gets perfect results.
Another gripe is the time it takes a video to start recording after pressing the direct video button in any other mode than the video mode itself.
The Competition
There aren't many cameras combining compactness and low light capabilities.
The ultra compact
Canon PowerShot ELPH 300
(
compare
) is slightly lighter than the WX10, but lacks the large aperture and zoom.
The premium compact
Canon PowerShot ELPH 500
(
compare
) has an even larger aperture setting than the WX10, at the cost of being somewhat larger is size, as well. It has a smaller zoom, touch-screen controls, and manual exposure, making it a strong rival for any compact camera.
The stylish
Nikon Coolpix P300
(
compare
), like the ELPH 500, is larger than the WX10 and has a smaller zoom range, but handles low light situations better thanks to its f/2.0 maximum aperture.
Who is it not for?
If you're looking for a camera with an extra large zoom, you should look elsewhere (namely - larger, heavier cameras).
If you want a simple, no fuss, affordable camera, the WX10 could be a bit too shiny for you.
Who is it for?
If you are looking for a small, light camera that will do a lot to help you get a clean shot in any circumstance, the WX10 is for you.
Rank:
Automatically compared to similar cameras, based on specifications:
Low Light:
Wide Angle:
Zoom Range:
Weight:
Other Features:
Price:
Total Rank:
Sony Cyber-shot DSC WX10
Eyal Gurevitch
June 26, 2012
$229
Compare the Sony Cyber-shot DSC WX10 with Similar Cameras:
Other Tools:
Use the Compare Tool
to compare the WX10 to other cameras.
See where the WX10 is placed on the Feature Graph.
Find similar cameras using the
Feature Finder.
Related Posts:
Related Pages:
See the list of all Ultra Compact Cameras
.
See the list of all Low Light Cameras
.