Specifications 2:


Type:
mirrorless

Weight (inc. Battery)

[?]

:
440g

Dimensions (w-h-d)

[?]

:
129 x 89.8 x 46.7 mm

Crop Factor:
APS-C (x1.5)

Megapixels:
16.3

Viewfinder Coverage:
100%

Viewfinder Magnification

[?]

:
0.77x

Auto Focus Points:
49

Enhanced AF Points

[?]

:
49

Video Resolution

[?]

:
1080p

Stereo Sound

[?]

:
stereo

Max Mechanical Shutter:
1/4000 sec

Maximum Sync Speed:
1/180 sec

Flash Guide Number:
none

Maximum FPS:
8 fps

Flip Lcd

[?]

:
flip

Touch Screen

[?]

:
none

Built-in Wireless

[?]

:
yes

Built-in GPS

[?]

:
none

Battery Life

[?]

:
350 shots

Initial Price:
$1299 (change:

↓

$700, 54%)

Last Price Change:


↓

$50 (8%) (Dec 28th)

Last Lowest Price:
$599

Lowest Kit Price:
$899

Price Includes Kit Lens:
18-55mm f/2.8-4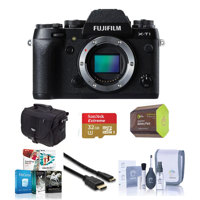 FujiFilm X-T1 - Full Review
Last Lowest Price:
$599
Current Lowest Kit Price: $899
FujiFilm X-T1 (photos: FujiFilm)
Important Note:
the X-T1 was replaced by the
Fujifilm X-T2
(
compare
).
The X-T1's
Price Watch
:
Brace yourself.
This is not just another camera. It's a brilliantly orchestrated set of photographic controls.
Did I go overboard with that remark? Perhaps.
Build Quality & Handling
At first, I was daunted by how different this camera's controls were different than anything I had been used to. I soon came to realize that it's the most convenient and intuitive system I ever worked with.
The entire exposure trio is right at your fingertips. You don't have to switch between modes like in any other 'PASM' camera. You just pick a shutter speed or send it to auto, and the same goes for aperture and ISO. Not having to choose a mode is one less step in the camera's work flow, which is the key factor in making it easy to handle.
It's always about control. With other cameras it's about how many function buttons and dedicated buttons and control dials. With the X-T1 there are enough dials to control everything you might want, so the need for extra function buttons is practically gone.
Note that the buttons on the back of the X-T1 are shallow - especially the right button on the four way controls and the Fn/wi-fi buttons, which require an effort to reach and press. This has been reported loudly enough such that there's already a rumor of a new version of the X-T1 with improved buttons (as well as a viewfinder with higher resolution).
In Your Hand:
It's not perfect, of course. I found more than a few issues that bugged me. First of all, the card slot cover, which is flimsy - so much so that it sometimes opened by accident when I moved my hand.
Moreover, the flexible rubber cover on the other side, harboring the mic/remote inputs, HDMI and USB connections, is an insult to the otherwise sturdy body.
Another irritating issue is that Fuji infuriatingly insist to allow shooting without a memory card. There's a short, easily overlooked warning when the camera is turned on, but that's it. It's only when you press the play button when you realize you've been shooting blanks. I can't imagine why they choose not to warn that there's no card.
Performance
Auto Focus
:
Comparison is how we make decisions, since absolute measures are hard to evaluate. In the case of the X-T1's auto focus, comparison is a thorn in the side (for lack of being blunt).
It's excellent - accurate and fast, until you compare it to other cameras, some less expensive and fancy, like the Sony A6000 or the GX7, which I did. If you manage to avoid comparing it, you'll be happy with it. It has a miss here and there, but nothing to be concerned about.
If you can't help but compare - see below the low light test I made for those three cameras. It must be said that the X-T1 retains its AF performance in low light with almost no degradation in performance.
X-T1, GX7 & A6000 Low Light AF test
Manual Focus
:
It has been a long time since manual focusing was so enjoyable, as well as so easy. Ever since SLR and Rangefinders of the days of yore became extinct, so did split frame focusing, with no one but the most nostalgic photographers daring to reminisce with yearn. But no more. The X-T1's split image focus assist mechanism, brings back the past into the present.
And if you don't like it, there's also focus peaking available in three different colors and two different levels, so pick your flavour. In addition, the focus distance meter is a great tool, but when viewed on the LCD it's too small - funny enough, it's better viewed in the viewfinder.
A small dislike here - not only that the focus assist, be it split image or peaking, stops functioning once you half press the shutter, the manual focus ring itself stops responding. How am I supposed to lock exposure, recompose and then focus? With the ae-l button? That's kind of ridiculous.
Operation
:
A friend of mine, who has the Sony A6000, likes the fact that his camera's shutter is loud. He even left on its beeps for extra presence. He checked out the X-T1 and quickly dismissed it as being too quiet.
That's the main fact about it - its shutter is one of the least noisy mechanical shutters I came across - if you put the camera in silent mode, to cancel all electronic sounds, it becomes near silent. Not 100% silent though, since it doesn't have an electronic shutter.
Together with its solid black body, what you get is an ultimate street photography tool. Fast, accurate and unobtrusive.
Image Quality
Colors & Contrast
:
Oh, it was a real treat, seeing the output of this camera on my screen. You know how with some cameras you take a shot and it looks great on its LCD but when you open it to the full stretch of your computer screen it actually isn't as great as you thought? This doesn't happen with the X-T1, Au Contraire. The larger the screen, the more the images reveal their richness in color and detail. I wish I had a chance to make some prints - I'm sure once I do, I'll like them even better (and I'll update here, as well).
I can only imagine what will happen when Fuji decide to start their full frame line up. Seeing as Sony is having such a great success with their A7/r/s, and know Fuji as a company to listen to the wants and wishes of the crowds, it should only be a matter of time for the FF X-Trans (F-Trans ?) sensor to make its appearance.
ISO Range
:
High ISO Performance:
See how the X-T1 performs in various ISO sensitivities:
Scroll your mouse over the thumbnails to view the images, then click on the images for full size versions.
High ISO Performance - 100% crops:
Here are full size crops of the images above:
Scroll your mouse over the thumbnails to view the images, then click on the images for full size versions.
Video Quality
:
I can't understand why Fuji is so reluctant to provide real manual control over videos. Just like in some of their other cameras, there's no manual control over video exposure, just exposure compensation. You can set the aperture before you start shooting, but that's it - you can't change the aperture or the shutter speed while shooting. There's also no live mic level on screen. Funny enough - the mic level exists only in the menus, where you can adjust it before you shoot.
Optical Zoom During Video:
Advanced Features
Continuous Mode
:
Continuous mode is very fast for about 40 shots, but only in single focus mode - not the mode you'd work with for shooting moving objects, which is mostly what you'd use continuous shooting in the first place. The speed in continuous focus mode varies according to whether the camera locks or not on each shot, and is naturally much slower. Focusing on moving subjects during continuous mode and continuous focus wasn't as fast as I expected. It works, but not in a consistent or dependable manner. Here's an example of the X-T1's continuous capabilities:
X-T1 Continuous Mode Example
Time Lapse
:
Time Lapse is there - shoot anywhere between 1 second and 24 hours and between 1 and 999 shots. Need I say more?
ND Filter
:
An ND Filter, on the other hand, is not there. This could have made a very nice addition for getting shallow depth of field in sunny or otherwise well lit situations.
Wi-fi
:
They got it right, Fuji. Download and install the App and you're done. Wireless remote connects in an instant with no setup required. Compared to the struggle with some other cameras, this is smooth as butter. Just the fact that the App makes the phone connect to the camera's wi-fi without having to do that yourself is a cause for celebration.
Using the App as a remote control, you can set exposure compensation, ISO, Film simulation, white balance, but you can't set the aperture or shutter speed. If Fuji add that, they'll reach perfection.
Transferring images to my phone was easy enough to actually be used as a sharing or backup tool, unlike some other cameras. Downsized (3m) photos took under three seconds and full size images took about six or seven. I especially liked the option to browse images from your phone, select the ones to be imported, then fire and forget.
Film Simulations & Effects
:
Unlike in the X-M1 and X-A1, you get the full set of Fuji's film simulations, Provia, Velvia & Astia, as well as filtered B&W. Those, together with high and low tone adjustments are powerful in-camera pre-shoot editing tools, minimizing the need for post processing. All-in-all, between all the films and color and contrast controls, all concentrated in your Q menu, it's like having a mini Lightroom inside your camera, being able to preview the outcome before you shoot.
In-Camera Film Simulations:
Here are examples of the available film simulations:
Scroll your mouse over the thumbnails to view the images, then click on the images for full size versions.
The Final Word
This here is not a textbook camera of intuitive controls - it's more than that, it's the camera according to which textbooks will be written. There are other cameras with various advantages over the X-T1, there are smaller cameras, there are full frame cameras, but none of which come close to giving you the feeling of control this one does.
Not having to use the menus ninety-five percent of the time is a blessing, the large viewfinder with its split image manual focus assist is clear, bright and genuinely useful, and the image output is a feast for the eyes. Despite the meagre video controls and the ability to shoot with no card, it's a winner end-to-end.
Score:
Image Quality: 9.5
Performance: 9.5
Build & Handling: 10
Advanced Features: 9
EyalG's Total: 9.5
Last Lowest Price:
$599
Current Lowest Kit Price: $899
Lineage:
FujiFilm X-T1
FujiFilm X-T1
Eyal Gurevitch
June 29, 2014
$599
Compare the FujiFilm X-T1 with Similar Cameras:
Other Tools:
Use the Compare Tool
to compare the X-T1 to other cameras.
See where the X-T1 is placed on the Feature Graph.
Find similar cameras using the
Feature Finder.
Related Posts: