Specifications 2:


Type:
mirrorless

Weight (inc. Battery)

[?]

:
507g

Dimensions (w-h-d)

[?]

:
132.5 x 91.8 x 49.2 mm

Crop Factor:
APS-C (x1.5)

Megapixels:
24.3

Viewfinder Coverage:
100%

Viewfinder Magnification

[?]

:
0.77x

Auto Focus Points:
325

Enhanced AF Points

[?]

:
91

Video Resolution

[?]

:
4K

Stereo Sound

[?]

:
stereo

Max Mechanical Shutter:
1/8000 sec

Maximum Sync Speed:
1/250 sec

Flash Guide Number:
none

Maximum FPS:
14 fps

Flip Lcd

[?]

:
flip

Touch Screen

[?]

:
none

Built-in Wireless

[?]

:
yes

Built-in GPS

[?]

:
none

Battery Life

[?]

:
340 shots

Initial Price:
$1599 (change:

$0, 0%)



Last Price Change:


↑

$100 (7%) (Jan 10th)

Current Lowest Price:
$1599

Lowest Kit Price:
$1899

Price Includes Kit Lens:
18-55mm f/2.8-4.0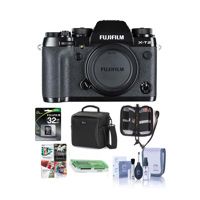 Fujifilm X-T2 - Full Review
A Camera for Photographers.
If you read my
review of the X-T1
you'd know that when I first held it, I couldn't understand how you were supposed to work with it. It seemed cumbersome and unintuitive, with too many buttons and dials. It didn't take me long to realize it was actually the most comfortable camera I had ever worked with.
The X-T2 is no different, for photographers who like to control their camera, i.e., photographing. It's all right there at your fingertips. Dials for shutter speed, for ISO, for exposure compensation and often another one for the aperture on the lens itself. You really need nothing else (generally, in life, that is).
You can also use two additional smaller dials for any parameter you might choose and new the joystick for selecting focus points and other navigations. All other buttons are customizable as well. It's camera control heaven.
So it highly resembles the camera it replaces, the body looks mostly the same, size and weight are practically identical, so what's different about it? In short - a lot.
What's New?
At first glance, their respective specs clearly show that Fuji have been busy since the X-T1 was introduced:
Megapixels: 24.3 vs. 16.3
Focus points: 325 vs. 49
PD points: 91 vs. none
Video resolution: 4K vs. FHD
Continuous speed: 14fps vs. 8fps
Card slots: 2 vs. 1
On top of that, the body, the LCD screen, the electronic viewfinder - all of these were significantly upgraded. As a result, using the X-T2 is more comfortable, more precise, and usually faster.
In spite the fact that the body seems unchanged from its predecessor, a second, closer look reveals more than a few changes. The top dials are larger than those of the X-T1 and their locking mechanism is different. They now can be either locked or unlocked and you don't need to press their middle while you turn them. I would have liked them to have a tactile feedback to let me feel when I turned them to the 'A' point, saving many eye shifts to the dials, LCD or EVF.
The buttons on the back of the X-T1 were too shallow, embedded in the body and hard to press - the X-T2 corrects this with deep and comfortable buttons.
The knobs for selecting exposure modes and drive modes reside under the top ISO and shutter speed dials. Since the dials are so large, it's hard to move the knobs beneath them. It's no longer something you do while shooting or without paying full attention. The gravest effect is to shooting video, since it now relies on switching the drive to video mode, an unclear and unwelcome change in itself - why Fuji decided to take away the dedicated video button? Perhaps they intended that video will be distinguished from stills shooting, as they also separated its configuration settings into a new menu section. It's true that with this new button layout you view the correct aspect ratio on screen before you start a video, but this is an insignificant in comparison to having to switch back and forth between modes when taking both videos and stills.
The LCD screen swivels 90 degrees upwards and 45 degrees downwards, for overhead or waist level shooting. It now also has a new hinge which allows it to swivel around 60 degrees to the right, for waist level portrait oriented shots, a welcome addition no doubt.
I was annoyed but some aspects of the X-T1's structure. First of all were the right and left slot covers, both of which were flimsy and rubbery and often opened inadvertently. These covers are sturdier in the X-T2 and do not open unless intended. At the bottom of the camera the battery cover now closes shut without having to slide it's lock and the tripod mount is now thankfully aligned with the center of the lens.
Behind the cover on the right side hides a pleasant surprise - a double memory card slot. You can set the camera to save photos to both cards simultaneously, JPG's on one of them and RAW on the other, or everything on one and then on the second, when the first is full. Regarding video, you must select which card will contain your clips, you can't save them to both.
There's one issue which Fuji still failed to fix, in this camera and in others, which makes it possible for me to copy this next passage from my review of the X-T1:
Another irritating issue is that Fuji infuriatingly insist to allow shooting without a memory card. There's a short, easily overlooked warning when the camera is turned on, but that's it. It's only when you press the play button when you realize you've been shooting blanks. I can't imagine why they choose not to warn that there's no card.
Operation
Every generation of electronic devices promises unprecedented speed and power and such performance which was never seen before and of course it isn't clear how we managed to live without. Every new phone is like that, every computer and every camera. The manufacturers issue statements and details publications. As someone who shot with the X-T1, I can now safely say that the promises and statements regarding the X-T2 are both true and false at the same time.
The improvement in speed of operation is clearly felt right off the bat. Menu navigation, which are finally well organized by logical sections, is swift and so is viewing images. The feeling is that everything works faster, tighter and with greater precision. When shooting, the tracking focus points flicker on screen and lock on faces and on eyes constantly and consistently. Shot to shot times have been reduced by roughly two thirds, including a much, much shorter blackout time which now makes shooting ever more efficient.
If I wrote in my review of the X-T1 that its shutter is quiet and unobtrusive, which is exactly what every street photographer looks for in a camera, the shutter of the X-T2 is far more quiet, just like that of the X-Pro2. You can hear an example of what it sounds like as well as a comparison is my video review here below. Moreover, and perhaps more important for some, the mechanical shutter allows up to 8 frames per second. If you use the electronic shutter, that maximum speed goes up to 14.
So why did I say that not all that was promised was fulfilled? Since you can undoubtedly live happily with the performance of the X-T1. The new generation doesn't render the previous one obsolete. It's a clear step forward and it brings Fuji to the front line of the mirrorless camera world, but that still doesn't mean that all the others are useless. Especially not when the
price of the X-T1
is just a bit more than half of the X-T2.
You also need to remember that maybe more than any other company, Fuji support their old models by updating them with new firmware versions. Just not long ago the X-Pro2 was granted some of the X-T2's capabilities. Of course you can't make its screen swivel, upgrade its viewfinder's brightness and it didn't get 4K video, but it did get the 325 focus points and it might (probably) behave more like the X-T2 in that regard.
Focus
Before I received the X-T2 for review, I thought it was all about being a well-oiled fast focusing machine for still shooting and continuous tracking. After taking a few shots with it, my attention was drawn to the wonderful amount of detail I found when zooming into those photos, especially the ones I took with the 56mm f/1.2, I almost forgot about its alleged focusing abilities. Then someone who knew I was reviewing it asked me how well it focuses in low light. So I checked and was blown away. I sat at home one evening, the 35mm f/2 mounted on the X-T2 and the TV screen being the only light source turned on, I tried to focus on a picture frame hanging on the wall. It was actually hard to see anything with the naked eye, except that the LCD screen on the camera was bright and clear and most importantly - the camera focused as if it was daylight, quickly and consistently. If my calculations are correct, it was -4 EV. Taking into account that some of the best cameras out there, including many DSLR's can only focus down to -2 or -3 EV, this is a clear win.
Of course I didn't forget to also check continuous focus tracking and fortunately enough I got my hands on an X-T1 for comparison. The X-T2 had a slight advantage in single shot focusing speeds, but it was immediately evident that it can track objects more accurately and in a much higher percentage of attempts. This camera's focus system is elaborate and requires studying and understanding it well before you can adjust it to fit your needs. In regards to tracking continuous focus, it doesn't do magic right out of the box. But once you get to know it and its menu options and it's configured properly, you get some serious return on your investment. From that point on it requires much less effort in order to provide an accurately focused batch of continuous shots.
Image quality
As I wrote before, the amount of detail and sharpness I found as I dove into the pixel level amazed me. Images taken with the 56mm f/1.2 even more so than others. I looked closely at several portraits and in each of them all the eyebrow and eyelash hairs stood out clearly as wheat in the field.
Here's an example for a 100% crop (click for the actual image):
Ever since Fuji introduced their X-Trans sensors, they have been known for their live colors and high detail level. This current transition from the previous 16 megapixel X-Trans II sensor to the 24 megapixel X-Trans III doesn't seem to hurt any of those renowned qualities. Au contraire, from results published by
photonstophotos
, based on photos I took with the X-T2 and sent in, it turns out that its
dynamic range
is larger by at least half a stop and its
noise levels
are the same up to ISO 800 and lower from that point on.
Here's a direct comparison between the X-T1 and the X-T2 at ISO 400 and at ISO 3200:
As I already mentioned, there was no increase in noise levels in spite the significant increase in the sensor's resolution. The first drop in image quality, visible at 100% magnification is at ISO 3200. The next visible fall in quality is at ISO 12800, at which point noise is high and detail level is low. Naturally, I'm not speaking of viewing images on screen as here or when sharing on facebook and such, since for those purposes all ISO levels retain an impressively high level of detail and color.
The bottom line
A wise man once told me to use the right tools for any job. I took that advice and I think of it repeatedly throughout the years.
It is clear for most people that you don't rinse pasta with a hammer and you don't stick a nail with a garden hose. In general, you can say that a better, more comfortable, more efficient camera is better suited for more tasks.
On the other hand, it's also obvious that a large, noisy heavy camera which is great for sports shooting since it's very fast, but it will do poorly when used for street photography, making people aware of it and scaring them away. Also, a small camera best suited for travel will never be considered for studio work.
Now, I don't mean that you should stick a nail in the wall with it, and sure as hell not rinse pasta with it, but the X-T2 is just good in everything.
The concept that all the exposure parameters are at your fingertips and can be controlled directly is the smartest, most intuitive I encountered in all cameras I had the pleasure to shoot with.
Image quality, detail level, outrageous colors and noise levels at high ISO's accompany magnificent focus capabilities (continuous tracking as well as single shots in low light) and a fast and quiet shutter, creating a truly impressive system. The X-T2 is not perfect, but it's very close, close to being perfectly suitable for every and any task.
Here's my 45 minute long video review of the X-T2:
Compare the Fujifilm X-T2 with Similar Cameras:
Other Tools: