Specifications 2:


Type:
mirrorless

Weight (inc. Battery)

[?]

:
232g

Dimensions (w-h-d)

[?]

:
99.5 x 60 x 28.5 mm

Crop Factor:
1" (x2.7)

Megapixels:
18.4

Viewfinder Coverage:
None

Viewfinder Magnification

[?]

:
None

Auto Focus Points:
171

Enhanced AF Points

[?]

:
105

Video Resolution

[?]

:
1080p

Stereo Sound

[?]

:
stereo

Max Mechanical Shutter:
1/16000 sec

Maximum Sync Speed:
1/60 sec

Flash Guide Number:
16'

Maximum FPS:
20 fps

Flip Lcd

[?]

:
none

Touch Screen

[?]

:
touch

Built-in Wireless

[?]

:
yes

Built-in GPS

[?]

:
none

Battery Life

[?]

:
300 shots

Initial Price:
$596 (change:

↓

$100, 17%)

Last Price Change:


↑

$147 (42%) (Sep 20th)

Current Lowest Price:
$496

Lowest Kit Price:
$496

Price Includes Kit Lens:
10-30mm f/3.5-5.6 VR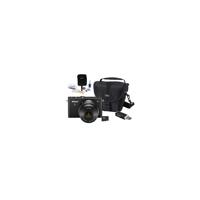 Nikon 1 J4 - Full Review
The Nikon 1 J4 is proof that more often than not, good things come in small packages.
Important Note:
the J4 was replaced by the
Nikon 1 J5
(
compare
).
Preface
The 1 J4 is the latest in Nikon's mirrorless, replacing the J3 and sitting smack in the middle between the low-end S2 and the high-end V3. Slightly heavier than the J3, the J4 has more to offer - 18.4 megapixels over the J3's 14.2, as well as 171 focus points, out of which 105 support phase detection. It improves both speed (max. burst speed of 20 fps), battery life (from 220 to a cool 300 shots per charge) and adds both wi-fi connectivity and touch screen controls.
If you prefer watching over reading - here's my review in a nutshell:
Build Quality & Handling
The J4's essence is that of compactness. It has very few buttons and dials on its small, bar-shaped body, so it takes a while to get around. For the sake of design, Nikon forsake any kind of grip, except for a miniature bulge on its back, where your thumb rests, but other than that, it's smooth as a slippery bar of soap, so make sure you strap it to your wrist or your neck.
Just like the Sony RX100 III in size - here's a comparison in scale:
The LCD screen is bright and informative, but quite awful in the direct sunlight - I could hardly see what I was shooting - I usually saw my own reflection, especially when wearing a white shirt.
There's an inherent plus side to its size and design - being practically unobtrusive in most circumstances. Its electronic shutter means there hardly any noise created by the camera while shooting. Turning on its silent mode makes this camera as discreet as a cat with silk shoes.
Shooting in automatic or semi-automatic modes is convenient enough, but the live view isn't always accurate in displaying the exact exposure, especially in extreme situations in which there are large light variations in the image, or when heavy exposure compensations are used. Moreover, in full manual mode - the screen doesn't show the selected exposure at all.
Performance
Seems like Nikon took an effort in making this camera as non-intimidating as possible for amateur photographers and family shooters, at the expense of making it non friendly for those seeking advanced shooting controls.
For example, since I had the 32mm f/1.2 on, I immediately aimed to control the aperture. I had to switch to creative mode, then open the menu, choose A mode and only then I could set the aperture to my liking.
Shutter, aperture and exposure compensation are easy to control, and so are some other basic functions such as white balance, metering and ISO - all accessible via the precise quick menu. However, anything more advanced than that implies diving into the menus.
Another small gripe is the auto white balance which isn't reliable - it's easily confused and changes too often in artificial lighting.
The strong card of the J4 is its processing speed - allowing it to capture fast bursts of up to 20 frames per second with continuous AF or up to 60 with locked focus. The best shot selector mode is pure gold when you're trying to capture a single moment like your kid blowing out candles or jumping in the air. It takes 20 consecutive photos with a single press of the shutter button. What's totally amazing about this feature is that some of the images are actually taken before you press the button, giving you a total of 20 to choose from.
The only drawback is that when you choose to save all the images taken by this mode, the camera takes about a minute to process and save them, so plan ahead.
All in all, between the 10, 20, 30 or 60 fps high speed continuous shooting, 20 instantaneous shots in the best shot selection mode, 120, 400 or 1200 fps slow mode video, as well as still shots taken during video, I can safely guess that you'll find at least one method as your favorite for capturing multiple images of important moments.
Focusing
Focusing is extremely quick, especially with the 32mm f/1.2 I was using. The kit lens was noticeably slower and noisier, but still fast enough.
What could potentially spoil the party is the shot-to-shot time - Nikon take pride in the focusing speed and shot to shot times of their 1 series cameras. They are right to do so, as long as you keep the image preview off. When I did, after taking a shot I was amazed by how quick I was able to take another one. Snap and then snap again, no hesitation whatsoever. When I turned image preview on, shot to shot times became agonizingly long. Like, 1 to 2 second long, so be sure to turn image preview off.
Using the touch screen to select the focus point and even take shots directly was very intuitive. However, in more than some situations, I moved the focus point inadvertently and had to reset it to continue shooting.
Image Quality
In general, the J4 provides lively colors and sharp images. As a day-to-day take-anywhere-with-you shooter, it's capable of creating very nice results. Having said that, I must say that out-of-camera Jpegs in artificial lighting are less than optimal. For best results, you'll need to use RAW.
Another point to mention is that since there is no mechanical shutter, the camera suffers from severe rolling shutter effect, so plan your shots accordingly, and avoid shooting during fast movement (of yourself or of your subject).
ISO Range
This is where you pay the toll for Nikon's choice of sensor size. I've been accustomed to expect mirrorless cameras to deliver acceptable image quality at up to ISO 1600 or even ISO 3200 in some cases. It's always larger sensors than the Nikon 1 range which deliver such results.
The Nikon 1 J4 is a compact and speedy camera, but what it's not, is a night shooter. ISO 800 is the highest level in which all details are retained. By ISO 1600, you can clearly see a drop in detail levels and ISO 3200 marks the beginning of the meltdown - with all fine details lost and a sharp drop in color, too.
Of course, if you're using your images for nothing more than sharing online and viewing on screen, and you don't really care for pixel peeping, then you may be perfectly happy with ISO 6400 as well, especially with its 'noise reduction' flavor, so it really depends what you're planning to do with the photos you take with this camera.
Depth of Field
Many words have been spoken and written about Nikon's choice of building a camera range around a x2.7 crop sensor, smaller than any of the micro four thirds or APS-C competition. This doesn't mean, however, that you can't create images with small depth of field. Given the excellent 32mm f/1.2 lens, here's what I was able to produce:
Video
Considering the price and positioning of the J4, it actually has a lot to offer in the video department - Full HD at both 30p and 60p, with electronic vibration reduction at the 30p setting, which helps with lenses that don't have optical image stabilization.
There is also a bundle of slow modes - with x4 120fps at 720p, as well as smaller x13.1 400fps and x40 1200fps, which are limited to 3 seconds recording times (translated to 40 and 120 seconds of play time, respectively).
The option to take photos during video works seamlessly. There's also an option to take 20 shots automatically during a single video. Seems that Nikon have thought of every option to capture any set of videos and photos, simultaneously or apart. Focusing during video is ok - depending on the lens, naturally. The new 10-30mm VR kit lens has some shortcomings, perhaps as a trade-off for being compact and cap-less. It is a bit hesitant in locking and is also quite loud when compared to the virtually silent 32mm f/1.2. Zooming with the kit lens during video is far from smooth - since its zoom is electronic rather than mechanical, it zooms in small jumps. See an example here:
Advanced Features
Sweep Panorama
:
I have yet to encounter a mirrorless camera that creates flawless panoramas. It appears to be much harder to implement this feature in mirrorless cameras than in compact cameras. In fact, I haven't been able to create more than a few acceptable panoramas with the J4. In most cases, the result kept showing highly visible seams and apparent variations in exposure.
Wi-Fi
:
The connection of the camera to my smartphone was easy - I turned on the wifi on the camera, launched the app on my phone, clicked on the wifi icon, chose the camera's wifi connection and I was done - 30 seconds, give or take.
After connecting, the app asks to view the images on the camera - it first downloads information about all them - taking a very long time - instead of loading them on demand - like every time you scroll down for instance.
Instead, there's a faster way of uploading photos from your camera to your smartphone by first selecting them images on the camera and then uploading them.
When downloading a batch of photos - it downloaded downsized versions only - I couldn't find a way to batch download full resolution images. Downloading original sized photos was done one by one - fortunately, it took just a few seconds each.
The shooting section of the app has three parts - the image you are about to take (live view), last 4 images you already took, and a shutter button. There's no configuration or any shooting controls whatsoever, which is a pity if you already have a working remote control app.
Neutral Density Filter
:
There is actually no built in ND filter but the fact that the electronic shutter can go up to 1/16,000 means you can use large apertures even in broad daylight.
The Bottom Line
The 1 J4 is a statement by Nikon - that they can make a compact but powerful mirrorless camera, whose strength lies on it processing speed. It offers every burst combination of images and videos you can think of, to promise that you catch the moment you wanted.
It's not the only small-sized high-quality camera out there, with the likes of the Panasonic GM5, offering slower functionality but higher image quality at roughly the same body size.
Of course, there's the Sony RX100 III and the Canon PowerShot G7X which both have a 1" sensor just like the Nikon 1 series, but both offer much more appealing zoom lenses than what you would probably fit on the J4. The trade-off is a welded lens and a much higher price for both of them.
Bottom line? If you're after the shooting speed the J4 has to offer or if you're planning on mounting various lenses and still have a small and efficient camera, then go right ahead and get it. If you want its compactness and can afford the higher cost of the RX100 of G7X, those could prove to be more convenient, especially in low light.
Compare the Nikon 1 J4 with Similar Cameras:
Other Tools:
Related Posts:
Related Pages: